What does it mean to build a cocktail bar—or a hotel, coffee shop, or any of our various projects—in little Humboldt, rather than, say, a bigger city? Or a different small town? If I were pursuing this same project in Topeka or nearby Chanute, would I make the same decisions, with the same final product?
I should hope not. If a project's larger context—including its geographic location and cultural context—isn't an input to the process, then the project is essentially a pursuit of vanity, an exercise in showcasing one's personal taste above everything else. That's not to say such projects aren't worthy, or can't be successful, but—in the case of A Bolder Humboldt's work specifically—when so much of our effort is about Humboldt or its citizens, we need to find a way to use the idea of Humboldt as an input into the alchemy of making specific decisions. What logic should be used to decide on a floor tile, a backbar design, a seating layout?
In this post, I'd like to explore some of my thinking on this alchemy and the various inputs that should inform the decisions leading up to a final product:
The project's location, in this case: Humboldt, Kansas and its geographic & cultural context;
A Bolder Humboldt's MO concerning quality & permanence;
The project's mandate, in this case, to build a "fancy cocktail bar, like you might find in a nice hotel lobby"; and
The decision maker's personal preferences and taste.
Let's look at each of these in turn.
Of Humboldt, Kansas
What characteristics of this amazing little town and its people do we want to communicate through our design decisions? What emotional responses do we hope to evoke regarding Humboldt? What stories of Humboldt are important to tell to ourselves and to visitors? There are no perfect answers to these questions, but here are some things that are clear to me:
Humboldt has always been a small-but-mighty town, advanced beyond its size in industriousness, effort, creativity and ruthless common sense.  We eschew frivolity and Victorian excess in exchange for practical frugality and an approachable Plains-style straightforwardness. We are a tight-knit community, defined quite literally around a dense commercial core (surrounding our beautiful public square), and we've mostly avoided the cancerous temptation to grow chaotically at our outer fringes with chain brands and outside interests. We value the trades and hard work and skilled craftsmanship and midwestern humility. These are the things I try to keep in mind when considering decisions that need to feel of Humboldt.
But how can we translate those feelings and abstractions into actual architectural decisions? Given our medium for these expressions is mostly building materials, we very early on established a notion of a Humboldt vernacular—that is, a language of materials that feel like Humboldt—rooted in our vibrant industrial and farming traditions, and cemented to our physical geography. Humboldt is literally bookended by such industries: Monarch, the 112-year-old plant on the town's southern edge, processes our area's rich limestone deposits into cement products; B&W, the 400-employee manufacturing facility on the north side of town, converts US steel into trailer hitches and more; and let's not forget Humboldt's first major industry: converting the area's thick shale beds into vitrified brick. There's also a deep culture of woodworking here, notably Pat Haire's incredible "living museum" of 1800s woodworking equipment on the west side of the square; Bison Woodworking's ambitious approach to kitchen, restaurant and other furniture; and my dad's own effort at planting tens-of-thousands of walnut trees on his properties around Humboldt. And then there's the natural geography and environment itself, in particular the riparian woodlands and meadows that surround our gentle Neosho, and the tallgrass prairies that stretched for hundreds of miles in every direction before we tilled it all into farmland.
Cement. Steel. Brick. Native wood. And the natural products of Kansas geography: tallgrasses and wildflowers, river gravel and limestone. These are the materials that can be called upon, when the effect is desired, to ground something in being of Humboldt.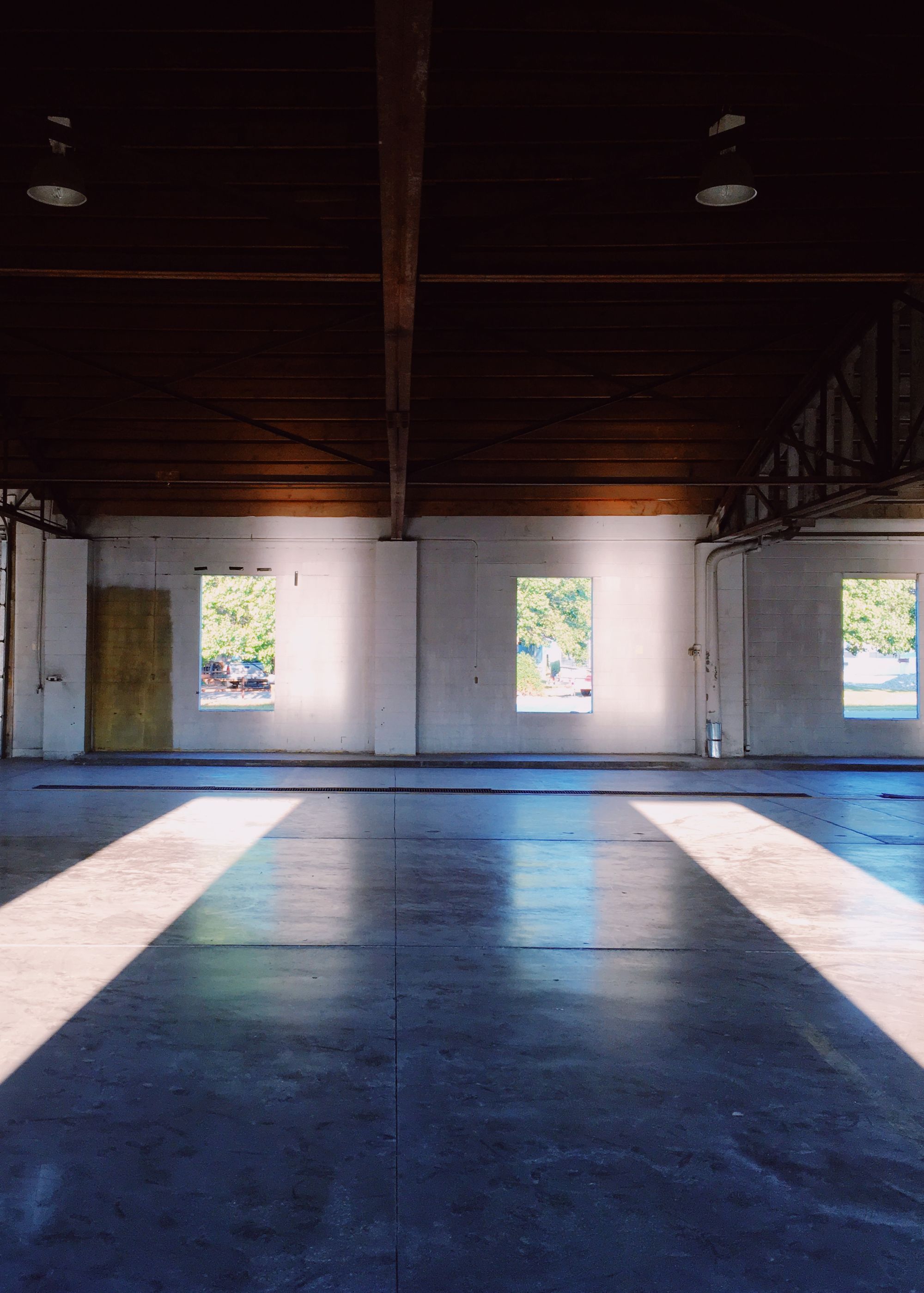 Not every project needs to call on this language to the same degree. On one hand, a project like the The Bailey guest rooms demands a somewhat firm adherence to the Humboldt vernacular. We want out-of-town visitors to get the real Humboldt experience—to feel like they visited here specifically, lived Humboldt's reality, and left knowing more about what our town is all about. We want Humboldt to represent a respite away from their usual existence—whether it be a big city, a foreign region, or just up the road. The communicated result should be to feel like they visited a place with its own unique identity, pace, story to tell, and place in the world. That doesn't happen in a generic chain hotel along the highway. And so to communicate what we hope to, The Bailey will speak firmly with the materials of Humboldt.
On the other hand, there are projects and circumstances that call for a more foreign experience, where guests are transported out of the defined possiblities of rural Kansas and into a constructed reality. Bijou Confectionary, our town's beloved candy store, transports customers to an elegant Parisian sweet shop with its polished marble and delicate touches of French decor.
Similarly, Perrenoud's cocktail bar will need to transport guests to a space almost wholly unfamiliar as contemporary Humboldt, while still feeling connected to the other properties it shares a building with. Perhaps we take a step back in time to Louie Perrenoud's 1890s jewelry shop. Or maybe we're elevated to a ritzy hotel in today's Downtown Manhattan. Or maybe we evoke our European heritage—like Perrenoud's native Switzerland?—or Jazz Age Chicago, full of Art Deco speakeasy energy? We'll need to nail down a focussed vibe, one way or another, before we start making specific decisions that need to coordinate with one another.  Which is to say, all of them.
ABH's approach to quality & permanance
Our organization is fortunate to be in a position to genuinely invest in Humboldt's future by prefering materials, equipment, building techniques and designs that are grounded in objective quality and permanence. When we uncover a wall with 6 layers of wallpaper-over-linoleum-over-wood paneling-over-(gasp!)-cardboard, we tend to not add our own new layer of lipstick, but do the harder, longer work of demolition and reconstruction.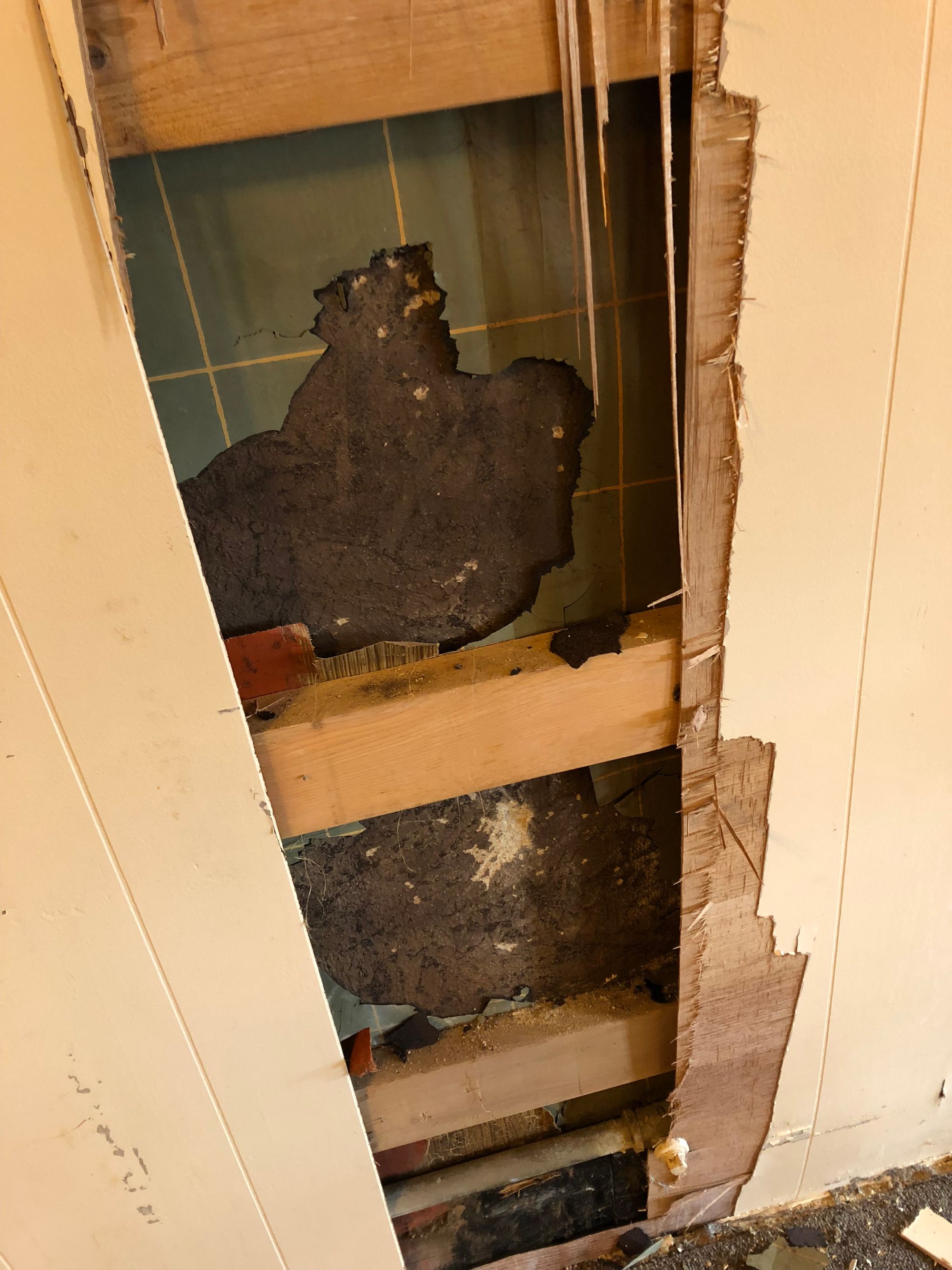 When we approach a building whose bones are no longer so good—rotting floor joists, leaky roofs, failing masonry, inadequate utilities—we strive to permanently fix those fundamentals. Our greater effort isn't to simply survive another temporary economic cycle; it's to establish a fresh groundwork on which Humboldt can build and compete for another 160 years. That requires, in the case of most of these old buildings, replacing roofs, not just adding another series of patches so to speak (and almost always, literally).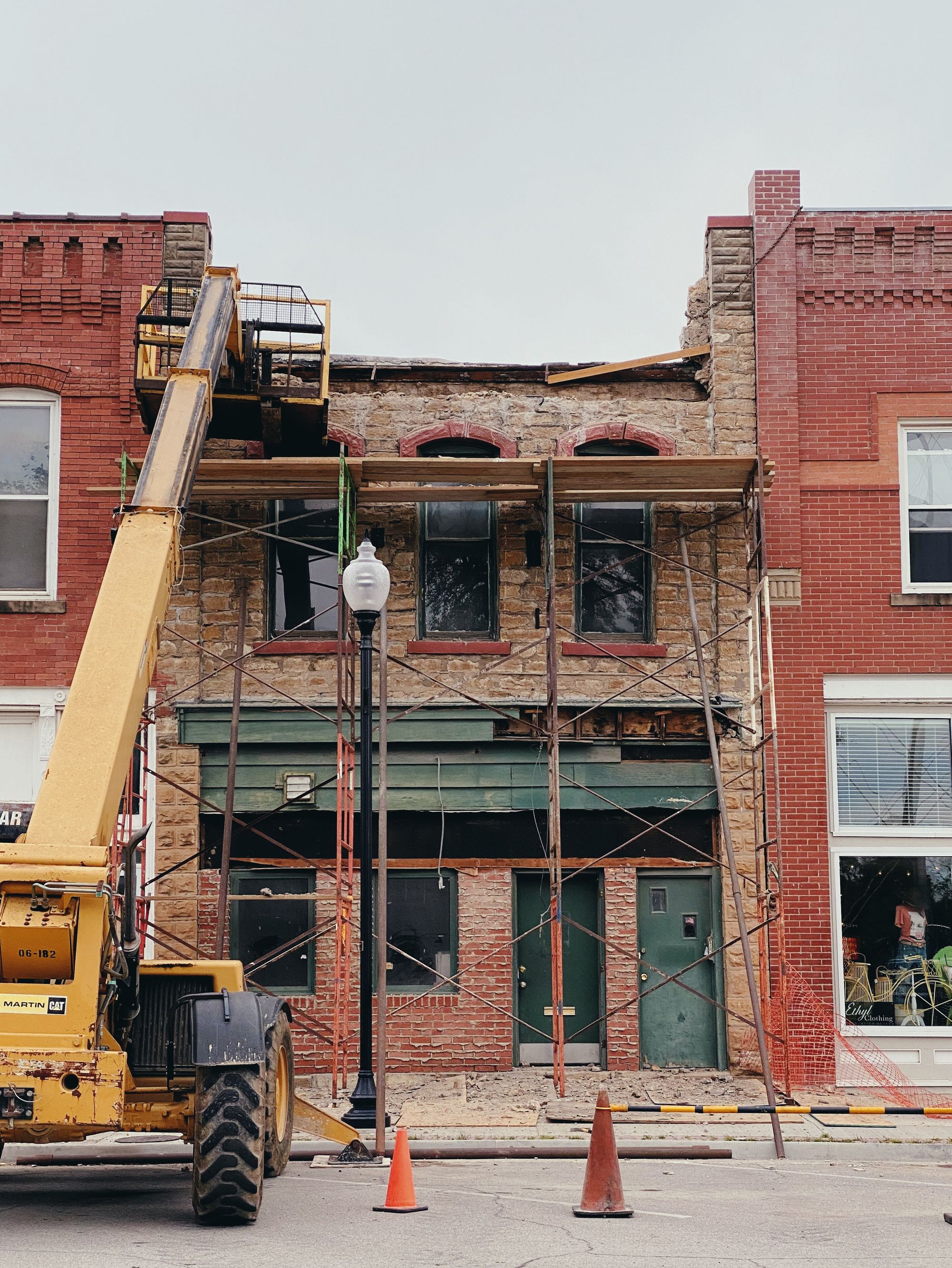 Preferring solutions grounded in quality is not just a matter of durability and longevity, but also of branding and customer experience. A genuine hardwood floor feels different, and communicates a different message of character, than a "wood look" vinyl flooring. As always, the struggle is balancing these considerations with a limited budget. Which investments generate the most desired impressions?  A Bolder Humboldt's MO is to take a hands-on approach to the work—grab a crowbar and demo, learn to tile, build fixtures ourselves, get dirty and paint—as a means to stretch our budget's impact as far as possible.
The Cocktail Bar mandate
This project's particular concept—"a fancy cocktail bar"—mandates its own approach to stylistic, architectural and material decisions. I'm still working to find the right words to describe this style, but I'm currently getting a lot of milage out of elegant and moody. I like those words, and feel like I understand them in an abstract way. There are others that tease, but never feel quite right: upscale, luxurious, ritzy. Those provoke an air of exclusivity or formality that I'm just not at all interested in. Perry's should remain approachable, while still putting forth its best effort to impress. At times, this feels like an impossible needle to thread.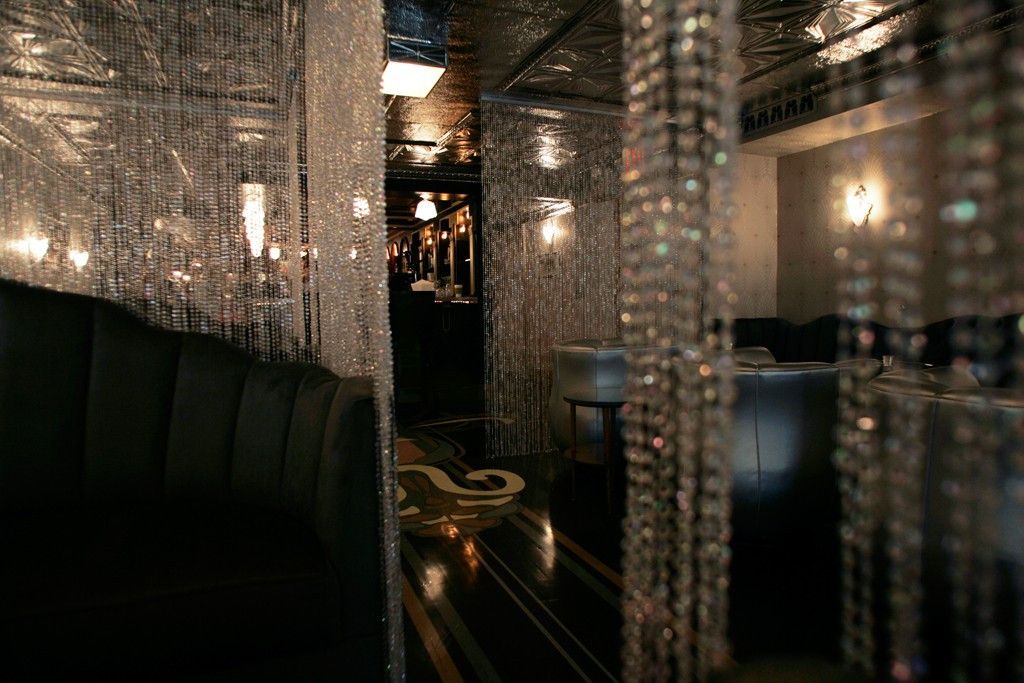 Some other words that get closer: handsome; graceful; sophisticated. Handsome in particular, feels right.  To me, it's less a term of masculinity, but of subtlety and effortlessness. To be handsome is to be striking and beautiful through a quiet, dignified inevitability. Imposing, but without trying too hard.  That's Perrenoud's.
More tangibly, these descriptions conjure thoughts of soft velvet; polished marble; dim, warm light; rich, saturated paint colors; furniture-finished woods; and timeless, traditional tile patterns.
Personal taste
The final input to my framework for decision-making is probably the most potent. No matter how objective and mathematical an approach, the person interepreting all of these influences and factors—and their natural disposition—is going to leave the biggest impression on the final product. In the case of this project, that's me.
While those of us at A Bolder Humboldt try to take a collaborative approach to the bigger picture, it's generally too inefficient to try to get buy-in for every little detail when implementing a project this large. So the decisions that follow—how big to make the bar, the mix of seating, the tile for the bathrooms, the items on the menu—are inevitably destined to be a reflection of my personal taste and interpretation of the project's requirements.
While I do have some training in design, many years of professional practice, and the best intentions to stay objective and focussed on outcomes rather than ego, my default aesthetic is likely to shine through.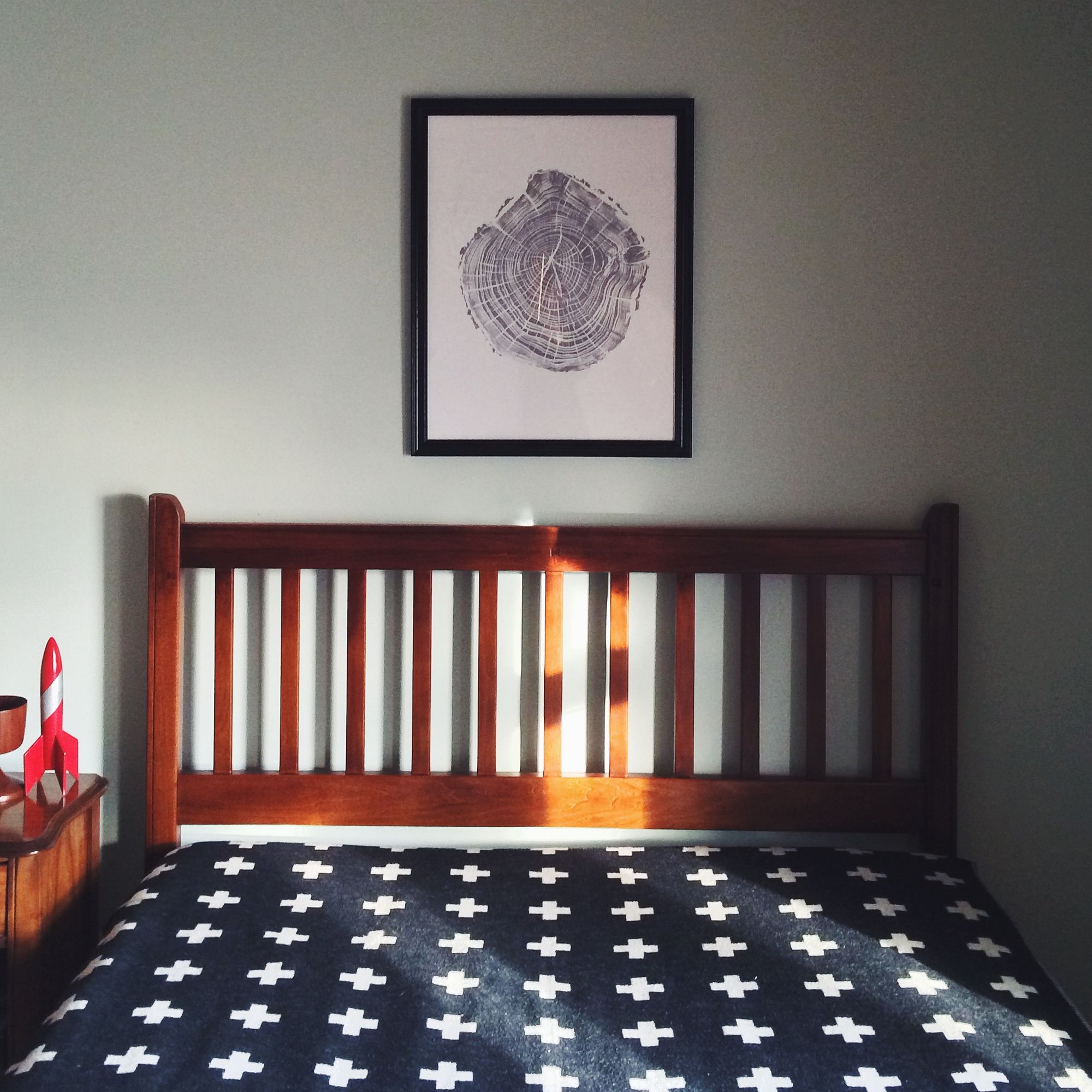 I tend to prefer:
minimalist, monochrome, subtlely masculine color treatments: blacks and grays, dark blues and high contrasts at transitions;
natural, unpolished materials like raw wood, stone and cement, and raw brass;
simple, clean, understated decoration; no filigree or excessive ornamentation;
traditional, humble approaches to architecture and materials;
novel or whimsical flourishes that delight in their counterpose.
Clearly, some of the project's own requirements—moody elegance—will force me to step outside of my comfort zone, while still attempting to bring my own unique preferences to the process.
For me, establishing an almost unreasonable precision to this decision-making framework and the language to describe it, helps a great deal at one of the next phases: finding real-life inspiration to narrow and hone the aesthetic direction. In my next post, I'll attempt to bring these forces—the material elements of Humboldt; the existing aspects of our space in The Bailey; the project's mandated sense of moody elegance; and my own personal style—together in an assortment of inspiration images—a mood board—that will help establish a tighter vision to pursue.
---
Thoughts? I'd love to consider your take at josh@abolderhumboldt.com.